This article was featured on Escape. Read full article here
Author: Celeste Mitchell 
As they prepare for take-off, Australia's newest low-cost airline Bonza hopes to whet appetites for its 27 domestic routes by revealing its inflight menu.
The 100-per-cent Australian line-up features more than 40 handpicked local producers ranging from Heaps Normal alcohol-free beer to a 'snag in a bag', and you won't have to wait for the trolley to roll down the aisle to get your fill.
"We're banishing the trolley, so for those of you like me who stand 10 minutes in the aisle waiting for the bathroom or hoped that you could get what you chose for it not to be available… we're launching food and beverage on demand," said Bonza Chief Commercial Officer, Carly Povey, at the launch at Sunshine Coast craft brewery, Your Mates.
Cans of the brewery's flagship pale ale, Larry, will be available on Bonza aircraft Bazza, Shazza and Sheila, which travellers will order via the Fly Bonza app.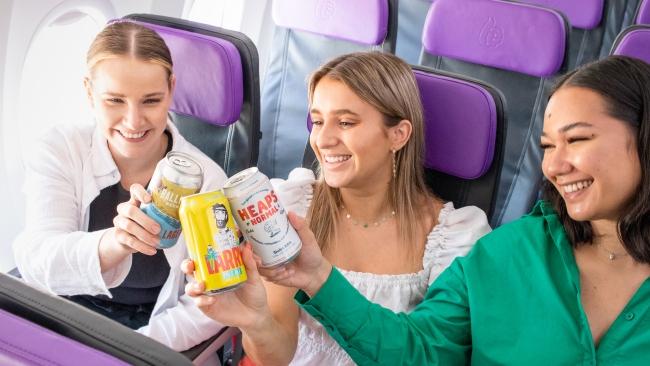 A strong contingent of Sunshine Coast producers – where the airline is based – feature on the menu, from Groundskeeper Willie cold drip filter coffee, to Sunshine & Sons gin, and the aforementioned sausages from Caboolture supplier, The Handmade Food Co.
"Bonza and Your Mates are like cheese and crackers," Your Mates co-founder Matt Hepburn joked at the launch, referring to the 'Aussie-ness' of the two brands. That fun spirit extends to giant chocolate freckles, banana bread waffles and 'popped' cheese balls.
Other menu highlights include vegan sandwiches, Bickford & Sons drinks from South Australia, Brazen brownies from Melbourne and Nerada tea from Cairns.
Much like the call-out to the public to name their planes, an open invitation was put out to producers for the chance to be featured on the menu. Those that made the final cut include several products that support causes, ranging from helping turtles on the Great Barrier Reef (Ballistic Beer Co from Bundaberg, Qld) to providing employment for people living with a disability (social enterprise Aussie Biscuits from Forbes, NSW).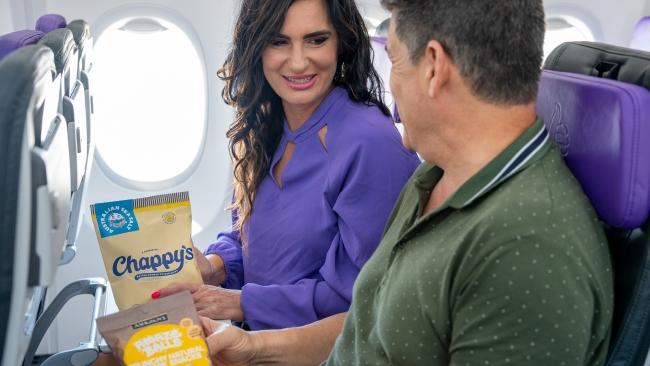 "This isn't just about having a good menu onboard, it's about supporting the community," says Povey.
As well as saying no to paper menus and magazines onboard, producers have created bespoke packaging solutions to aid Bonza's sustainability efforts. Wine from Queensland's Sirromet will be served from full-size, lightweight, recycled and recyclable plastic bottles, effectively banishing all mini bottles apart from prosecco. Sunshine & Sons spirits will come in recyclable soft pouches, which reduce weight and volume, and biodegradable napkins will only be handed out on demand. While plastic water bottles remain, a positive change will be in the cups used onboard.
Reusable Turn cups will be served with all cold drinks – and talks about coffee cups are ongoing – then washed and sanitised after each use in a mobile smart washer to be based at Sunshine Coast Airport.
The entire menu will be offered on all of Bonza's 27 routes – 93 per cent of which are not currently served by any airline.
The only thing holding them back now is the final green light from the national regulatory body, Civil Aviation Safety Authority (CASA) to which Bonza CEO Tim Jordan says, "We're getting close."